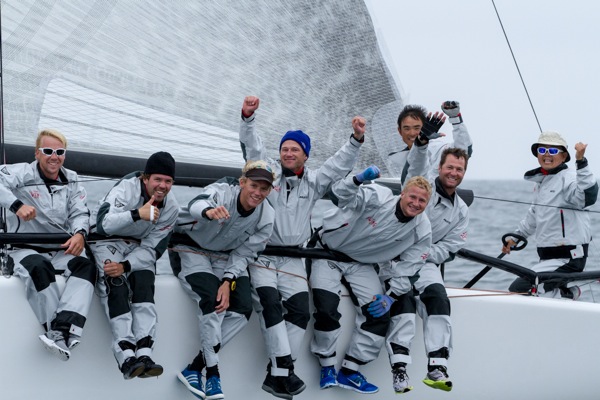 (Photo: Joy/Melges 32)
Vi havde aftalt af give den fuld gas i 10. og sidste sejlads ved VM Melges 32. Og det løfte fulgte vi i den grad op på, ved at slå hele det stjernespækkede felt med mere end 2 min i mål. Intet mindre end fantastisk.
I pressemeddelelsen stod:
…
30 September 2012
Newport, RI – USA – The final day of competition at the 2012 Melges 32 World Championship, hosted by the New York Yacht Club (NYYC), had spectators on the edge of their seats for the last race of the ten part racing series. John Kilroy, Jr. on Samba Pa Ti triumphed over the thirty-three strong fleet to claim the class' most coveted trophy and title — that of Melges 32 World Champion.
Kilroy was joined onboard by tactician Paul Goodison and crew Federico Michetti, Harry Melges III, Luca Faravelli, Martino Tortarolo, Justin Smart and Marco Carpinello.
Proudly seated second overall is Alec Cutler on Hedgehog with tactician Richard Clarke and in third, is a deserving Steve Howe on Warpath with Morgan Larson on tactics.
Race number ten provided more surprises under overcast skies, light and shifty breezes out of the Northeast. Keisuke Suzuki from Japan on Swing, with tactician Jesper Radich put the fleet on alert when he challenged and overtook John Taylor's Ninkasi with Jeff Madrigali on tactics. Suzuki slowly but surely acquired a monster lead as the race progressed, then gained more momentum and extended furthermore earning over a two minute lead at the finish for the win. Edoardo Lupi's Torpyone had a great race finishing second, while Alex Jackson on Leenabarca claimed third.
…
Så fik vi da slået fast, at når bare vindforholdene holdt sig i den lettere ende, kunne vi godt bide skeer med de allerbedste. Sejren løftede os op til en samlet 16 plads, hvilket ikke er alt for prangende. Men kun én båd havde flere sejladssejre end vores 2 stk, nemlig den samlede vinder Samba Pa Ti.
Og dermed afsluttes mit kapitel med Team Swing for denne gang. I næste sæson har jeg i Melges 32 klassen lavet en aftale med den tyske Opus One om at være taktiker på deres satsning på den europæiske Audi Circuit bestående af 5 events. Og da Team Swing også vil deltage på den europæiske tour, har jeg været nødt til at vælge medspillere… og modspillere. Thats life.
Next up – koldsvands sejlads i slutningen af oktober i en etape sejlads på tværs af den Botniske bugt, i Swan 60. Brrr…
Over and out
Jesper